Chris Palenik Discusses Investigation into Child's Disappearance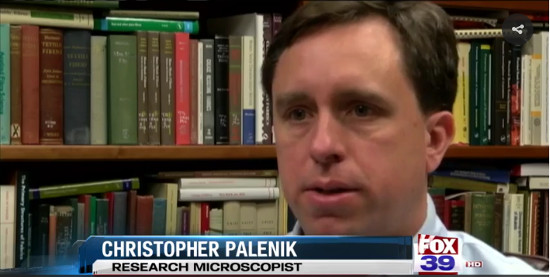 On May 11th, 2011, 6-year-old Timmothy Pitzen was suddenly removed from his kindergarten class in Aurora, IL by his mother, Amy, who claimed a family emergency. Three days later Amy was found dead in a Rockford, IL motel room, where she had committed suicide. She had written a note explaining that the young boy was safe with people who loved him, but that he would never be found. Six years later, the abduction continues to be investigated, but Timmothy has still not been located.
Aurora police consulted with Microtrace on the case. Microtrace was tasked with analyzing and tracing key evidence in the investigation- the soil and gravel found under Amy's SUV, which she likely used when Timmothy went missing. Last week, senior research microscopist Chris Palenik was interviewed about Microtrace's findings by WTVO/WQRF, ABC and NBC affiliates for the Rockford, IL area.
From the interview:
"Aurora police came to us in this case, because they thought perhaps we could put some constraints on where these samples might have come from, or where this dirt might have come from," said Research Microscopist, Christopher Palenik.
They're looking into a new angle to help identify where Timmothy may be.
"There's an unexpected mineral found in the soil called anhydrite, and if we can figure out where this mineral is occurring, or why it's occurring in the soil, this could give us a lot of information about where the mud originated," said Palenik.
To read the full article or watch excerpts from the interview, click here.
How May We Help You?
Contact us
to discuss your project in more detail.