In Memoriam – Joseph E. Koles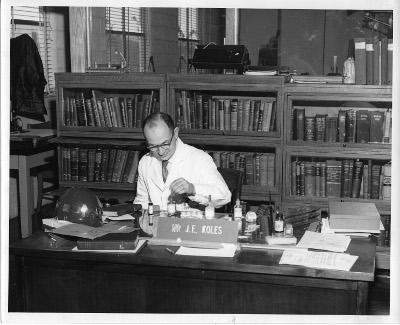 It is with sincere regret that we report the passing of our friend and mentor Joseph Koles.  Joe passed away suddenly on Friday, February 12, 2021.  He is survived by his wife of 64 years, Wilma, and their eight children.  Due to the COVID pandemic, his family is still making plans for a memorial to be held in the future.
Joe enjoyed a long and very successful career as a microscopist and microchemist in the laboratories of the U.S. Army Crime Laboratory (USACIL), Food and Drug Administration (FDA), and until his official retirement, at the Drug Enforcement Administration (DEA).  By the time he joined the DEA's Special Testing and Research Laboratory in McLean VA, he had become renowned among forensic chemists as an analytical wizard.  New DEA chemists and lucky scientists from state and local laboratories, fortunate enough to receive some of their training at this laboratory, would receive some of their most valuable instruction in Joe's "Criminalistics Laboratory" in the basement.  Unknown samples, whose identity could not be "cracked" at the regional labs eventually made their way to Special Testing for analysis by the "big guns".  However, when even they failed, the samples ended up in Joe's lab.  Here with his microscope, reagents, and mass spec (as well as his highly developed lab craft and expertise honed by experience) he was almost always able to identify the unknown substance.
Demand for Joe's analytical expertise and instructional skills took him quite literally around the world and helped to build his international reputation.  He wrote chapters on his specialty, contributed book reviews, and gave workshops.  In 1993, at the McCrone Research Institute Inter/Micro banquet, Joe was presented with an honorary doctorate in chemical microscopy by Dr. Walter C. McCrone.
I first met Joe at a scientific conference many years ago, early in my career, where we were both invited to teach.  Our mutual love of microchemistry, antiquarian books, and home laboratories sealed our friendship before the afternoon was over.  We remained friends since then.  In his note inside his Christmas card this past year, Joe was in good spirits and was looking forward to celebrating his 95th birthday in May.  He will be missed by many people in many ways.
– Skip Palenik, President, Microtrace
How May We Help You?
Contact us
to discuss your project in more detail.