Happy Holidays from Microtrace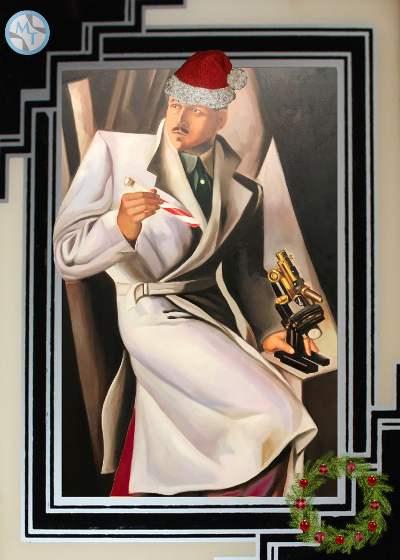 Even the most dedicated of scientists
take a break from their experiments
to enjoy and celebrate the holidays.
On the cover, we find Dr. Edmond Locard,
the father of forensic trace evidence analysis,
as he conducts some holiday alchemy.
In the spirit of his Exchange Principle,
we offer this card as a primary transfer
of goodwill and holiday greetings.
Best wishes for a
Merry Christmas & Happy New Year
from all of us at
Microtrace
This oil-on-canvas painting of Dr. Edmond Locard (1877-1966) was commissioned by Skip Palenik to serve as the centerpiece of the Microtrace lobby. It depicts the father of forensic trace evidence analysis as he appears in the studio photograph presented to Harry Söderman on the completion of his studies with Maître Locard in 1928. The image is intended to depict Locard as a heroic scientist-detective in the high Art Deco style of the period. His lab coat evokes the fashionable trench coats of the Roaring Twenties, and the Zeiss petrographic microscope is consistent with the period. This painting was adapted for the playful, holiday-themed cover of this year's Microtrace card.
Locard's work on the analysis of dust traces inspired Skip's life-long love of microanalysis and led to the establishment of Microtrace. Dr. Locard is best known for his work on the transfer of traces in criminal investigations, which L.C. Nickolls first referred to as "Locard's Exchange Principle" in 1956.
From all of us at Microtrace,
We wish you a
Merry Christmas
and Happy Holidays 2019
How May We Help You?
Contact us
to discuss your project in more detail.